Morning peeps. It is gorgeous weather here today. It has touched 30 here but then it is a scheduled post so it might really be piddling of rain on the day you are reading this. Lol!!!! I hope not. It is time for another Challenge to start over at
TOTALLY PAPERCRAFTS
. This week's theme is
Butterflies,Buttons and Bows.
This is the choice of our lovely
CAROL
.
Our Sponsor is:-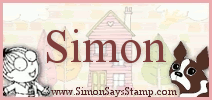 The prize is $25 Gift Voucher to spend in their on line shop.
My A5 DT Card
Products Used
Stardream Cardstock
Stamp Image: Christine Coleman Lace Butterfly Stamp plate JS254 - Joanna Sheen
Stamp Sentiment : Clarity Stamp
Versamark Watermark Stamp Pad
Tropic Red Blaze Cosmic Shimmer Embossing Powder
Dies:- S4-114 Standard Circles Large
S4-293 Lacey Circles - Spellbinders
Style No 98115 Spring Border - Memory Box
Ladybird Buttons and Bow are from my stash.
Have a super time playing this Challenge.
I would like to enter this for:-
http://allsortschallenge.blogspot.com
Wk#170 - Anything But a Square
http://charismacardz.blogspot.com
- Ch#35 Seeing Double (Double Ladybirds)
fatpageswithattitude.blogspot.co.uk
Ch#22 - Anything Goes/Buttons and Bows
http://heckofachallenge.blogspot.co.uk
- Ch#1 - Anything Goes
ppp-makeitmonday.blogspot.co.uk
- ~105 - Anything Goes
http://natalieandamy.blogspot.co.uk
Ch#1 - Anything Goes
http://papelitosstamps.blogspot.com.es
- Ch#10 - Anything Goes
http://pattiescreationschallenge.blogspot.com
- Ch#52 - Embossing
Spark Your Creativity Now
- Ch#1 - Anything Goes
www.tammyscrapincorner.com
- Wk#26 - Anything with Wings
http://tuesdayalchemy.blogspot.co.uk
Ch#30 - Anything Goes
http://mymumscraftshopchallenges.blogspot.com
Ch#73 - Anything Goes
www.papercraftstar.blogspot.com
Ch#111 - Something Girly
Hugs
XXXXXXXXX